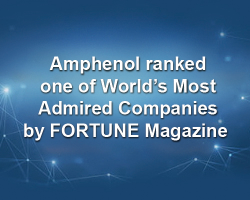 AMPHENOL RANKED AS ONE OF WORLD'S MOST ADMIRED COMPANIES BY FORTUNE MAGAZINE
February 02, 2022
Wallingford, Connecticut, February 2, 2022. Amphenol Corporation (NYSE: APH) is pleased to have been ranked as one of FORTUNE magazine's World's Most Admired Companies.
"I am proud that Amphenol was recognized by Fortune magazine as one of the World's Most Admired Companies in their survey this year," said Amphenol President and Chief Executive Officer, R. Adam Norwitt. "This recognition is a great reflection of the trust that we have built over many years with our customers, peers, employees and other stakeholders, and is another example of the strength of the Company's unique, entrepreneurial culture."
The FORTUNE survey is conducted in partnership with Korn Ferry and asks executives, directors and analysts to rate companies on areas including investment value, quality of management and social responsibility. For more information about the survey, visit www.fortune.com/worlds-most-admired-companies/.