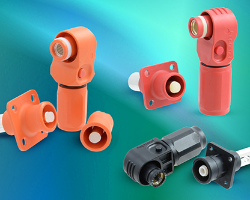 Amphenol Industrial's SurLok Plus™ 2021 Expansion
November 17, 2021 | Amphenol Industrial Products Group
Amphenol Industrial Operations (AIO), continues to expand its SurLok Plus series and cabling system to fulfill the increasing demand for higher voltage interconnections within the energy storage, electric vehicle and battery charging markets. The 3.6mm SurLok Plus right angle connector, in 1500VDC voltage range, is an industry-leading product for 70A application power connections for battery and related control box applications. In order to meet 1000VDC voltage range application requirements, AIO added 5.7 and 8.0mm inline type connectors. These connectors feature a quick connect and locking system design that is ideal for power system connection applications.
Used to meet energy storage requirements
SurLok Plus is a single pole connector that can be used to meet energy storage requirements for high power connections and transfers. EMI shielding function is available for high voltage and current connections in the 1000V, 8.0mm size.
In addition to being ideal for use in energy storage, this new compact connector can also be used in electric vehicles, hybrid electric and/or EV within the heavy equipment market. Surlok Plus 3.6mm right angle 1500VDC and 5.7 and 8.0mm inline 1000VDC are reliable alternatives to common compression lugs.
Easy to mate and unmate
These robust, cost-effective connectors are easy to mate and unmate, featuring a keyway design to prevent incorrect mating. The SurLok Plus 3.6mm is rated 70A, while the 5.7mm and 8.0mm inline are rated to 120A, and 200A respectively.
The SurLok Plus offers a flexible, quick lock and press-to-release design to accommodate various dimensional constraints. The R4 RADSOK connector significantly increases amperage, while reducing insertion force, temperature rise and voltage drop. The Surlok Plus 3.6mm 1500VDC conforms to UL4128, while the 5.7mm and 8.0mm inline 1000VDC conforms to UL1977; a standard set for safety component connectors for use in data, signal, control and power applications.
For more information about the SurLok Plus™ visit Amphenol Industrial Operations.
Continue Reading
---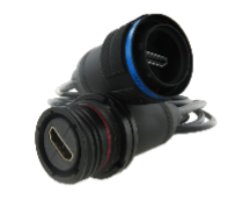 Amphenol SOCAPEX launches a new range of Rugged Display Solutions : MiniDisplay Port & HDMI connectors
October 22, 2021 | Amphenol SOCAPEX
Thyez, France, October 12, 2021 – Amphenol SOCAPEX new Display Solutions are designed to transmit video data & information in harsh environment for equipments such as C5ISR, Ground Vehicles and Navy.
These new connectors are designed and built to last to ensure a reliable transmission between display screens, cameras, computers. The new Rugged Display Solutions range covers protocols including: DisplayPort, HDMI.
Implementing these new connectors is really quick and easy. Any standard DisplayPort or HDMI plugs or cordsets can be converted into a military-grade solution for harsh environments with high level of sealing and durability.
More details regarding the technical features of each connector:
MDP FTV - Mini DisplayPort 1.4 rugged interconnect system
MDP FTV connectors can support 8K UHD (7680 × 4320) at 60 Hz or 4K UHD (3840 × 2160) at 120 Hz. They feature a Tri Start Thread coupling mechanism (MIL-DTL-38999 series III type) with anti-decoupling device and use display 1.4 protocol. The transmission bandwidth is 32.4 Gbit/s with 8.1 Gbit/s per lane.
HDMI FTV - HDMI 2.0 protocol rugged interconnect system
HDMI FTV connectors can support 4K UHD (3840 × 2160) at 60 Hz. They are based on the norm MIL-DTL-38999 series III using HDMI 2.0 protocol. The transmission bandwidth goes up to 18 Gbit/s with 6 Gbit/s per lane.
« This is a great new product range to bring under the Amphenol SOCAPEX product offering in order to respond better to the needs of the military markets. The Rugged Display Solutions range enlarges our core offering and further defines our footprint in video transmission applications. » comments Kevin Zerr, Amphenol SOCAPEX C5ISR Product Manager.
In order to adapt to harsh environmental constraints, the connectors are available in different materials and surface treatments such as cadmium, zinc, black nickel, or nickel.
These new connectors are available now through our network of distributors (see the detailed list on our website https://www.amphenol-socapex.com/en/find-a-distributor).
If you need any help to specify or select the right connector for your application, please contact our Technical Support team who will help you. Go to https://www.amphenol-socapex.com/en/technical-support
Continue Reading
---
Amphenol Receives Cisco 2021 GSM Supplier of the Year and Cisco Supply Chain Operations Supplier of the Year Awards
September 16, 2021
Wallingford, Connecticut, September 16, 2021. Amphenol Corporation today announced it was the recipient of two Cisco awards: Cisco 2021 GSM Supplier of the Year and Cisco 2021 Supply Chain Operations Supplier of the Year. Cisco unveiled the award winners at its annual Supplier Appreciation Event (SAE). The 30th annual SAE was aired virtually for the second year in a row on Cisco TV on September 14, 2021.
The Cisco 2021 GSM Supplier of the Year award recognizes Amphenol for demonstrating excellence in all of Cisco's core performance areas – quality, technology, flexibility and productivity, and exceeding expectations to support the success of Cisco and its customers.
The Cisco 2021 Supply Chain Operations Supplier of the Year award recognizes Amphenol for exceeding expectations across many areas of the business including quality, technology, responsiveness, flexibility, value creation, sustainability, and consistently demonstrating a high-level of partnership.
"The way we anticipate, navigate and respond to global events that impact our industry will determine how the world builds a more sustainable, more resilient, and more inclusive future," said Marco De Martin, vice president, Global Supplier Management, Cisco. "Our theme this year, 'Together Toward Tomorrow' highlights the criticality of our extended partner and supplier network. Despite the tremendous challenges we faced this past year, we have collectively remained focused on our shared goals. Together with our valued partners, we look forward to continuing to help our customers reimagine their applications, power hybrid work, transform their infrastructure and secure their enterprise."
At the event, Cisco celebrated the collective achievements and contributions of its most strategic supply chain partners, and recognized the suppliers and partners that executed exceptionally well across the supply chain.
About Amphenol
Amphenol Corporation is one of the world's largest designers, manufacturers and marketers of electrical, electronic and fiber optic connectors and interconnect systems, antennas, sensors and sensor-based products and coaxial and high-speed specialty cable. Amphenol designs, manufactures and assembles its products at facilities in the Americas, Europe, Asia, Australia and Africa and sells its products through its own global sales force, independent representatives and a global network of electronics distributors. Amphenol has a diversified presence as a leader in high-growth areas of the interconnect market including: Automotive, Broadband Communications, Commercial Aerospace, Industrial, Information Technology and Data Communications, Military, Mobile Devices and Mobile Networks. For more information, visit www.amphenol.com.
Cisco and the Cisco logo are trademarks or registered trademarks of Cisco and/or its affiliates in the U.S. and other countries.
Continue Reading
---
Amphenol Industrial's EMI Wind-Lok®
June 23, 2021 | Amphenol Industrial Operations
Amphenol Industrial Operations now offers EMI Wind-Lok, a reverse bayonet connector designed to deliver high power from source to load. This heavy-duty connector with EMI shielding is used in a variety of different markets, including wind turbines, offshore windfarms, electrical generators, charging systems, as well as offshore petroleum production.
Amphenol's EMI Wind-Lok is a single pole, high-power connector that features a 1/3 turn reverse bayonet coupling design with secondary coupling that allows for audible, tactile and visual confirmation of secure mating. Its double-dead front, finger-proof inserts help to protect the pin as well as the socket.
With a shell size of 40, this heavy-duty connector can fit a wide range of wire sizes. Its 18 mm RADSOK socket contact provides an amperage rating up to 800 A at 2,500 VDC.
EMI Wind-Lok features rugged corrosion resistant plating with a hard coat anodized finish that can withstand 300 days of continuous salt spray. The connector offers crimp or two-hole busbar termination and features silver plated contacts. It is RoHS and REACH compliant, providing more protection for insert and contact assembly. The connector is also vibration resistant.
The new connector has an operating temperature of -40˚C to +125˚C and can withstand up to 2,000 mating cycles.
For more information about the EMI Wind-Lok® visit Amphenol Industrial Operations.
Continue Reading
---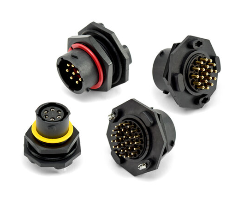 Amphenol Sine Systems' ecomate® Aquarius™ PCB Mount Jam Nut Receptacles
June 17, 2021 | Amphenol Sine Systems
PCB Mounted Jam Nut Receptacles for Heavy Duty, Harsh Environment Applications
Available in 8, 10, 12, 14, 16 and 18 Shell Sizes and 18 Insert Arrangements
Amphenol Sine Systems' ecomate® Aquarius™ PCB Mounted Jam Nut Receptacles are designed specifically for mounting to Printed Circuit Boards (PCB) or Flex Circuits. As part of the ecomate® Aquarius Waterproof Connector series, they provide an IP67/69K waterproof rating when in a mated condition for industrial applications, and incorporates the latest technology in high impact thermoplastic design, offering advantages of lightweight, lower-cost, sealed connector systems on the market today. ecomate® Aquarius Waterproof Connectors are ideal for Indoor/Outdoor applications and the MIL-DTL-26482 based design provides a quick, reliable, 1/3 turn bayonet coupling.
Additional ecomate® Aquarius™ connectors include optional In-Line, Jam-Nut, Square-Flanged, and End Cap configurations. Their pin and socket contacts are available on reels, in strip form, for high volume, low cost, automatic machine terminations. They are also available in loose piece, machined, contact forms and can be shared with the ecomate® RM Rugged Metal Connectors multi-way connector series.
Key Features
Built-In Stand-Off's for consistent height off PCB for ease of cleaning
Optional Locking Posts for secure mounting for harsh environments
Lower Profile than industry standard Jam Nut receptacles
Bayonet Rapid Coupling System
Colored Rings for Visual Identification Available
Applications: Solar Energy – Power; Off-Road – Mining, Railway, Marine; Instrumentation – Measurement, Water Metering; Building Automation - HVAC, Lighting, Closed Circuit TV; Telecom – Data Infrastructure, Traffic Control
Continue Reading
---
Amphenol Industrial's Amphe-Lite Quadrax
May 25, 2021 | Amphenol Industrial Operations
Amphenol Industrial Operations now offers a connector with high-speed contacts that provide datalink solutions for critical applications. The Amphe-Lite Quadrax provides high data transfer rates, lower power consumption and excellent EMI compatibility.
This new connector, designed for high-speed signal applications in ruggedized and high vibration environments includes two pairs (4 pins) of high-speed contacts with bandwidth up to 3.125 GHz, Ethernet 10G Base-T-100 Ohm and a data rate up to 6.5 Gbps.
USED IN THE RAIL MASS TRANSIT, HEAVY EQUIPMENT, OIL AND GAS, AND MINING MARKETS
Ideal for use in rail mass transit for WTB, MVB and PIS systems; datalink for network, sensor, audio and video in heavy equipment; as well as datalink and signal in the oil and gas mining markets, these connectors offer high bandwidth, excellent EMI shielding, a ruggedized shell and robust design for extreme environments.
VERSATILE CONNECTORS
These versatile connectors are shock and vibration resistant and can withstand 500 hours of salt spray. They are compatible with MIL-DTL-38999 shell and have excellent adaptability in a modified size 8 cavity to accommodate keyed contacts. They are also compatible with Cat 5E or Cat 6A cable systems.
Amphe-Lite Quadrax is available in size 8 crimp termination or PC tails, with high density (up to 99 contacts) hybrid signal and power.
For more information about the Amphe-Lite Quadrax visit Amphenol Industrial Operations.
Continue Reading
---
Amphenol Sine Systems' DuraMate AHDM (-059) Cable Clamp Backshells
May 03, 2021 | Amphenol Sine Systems
The DuraMate™ AHDM environmentally-sealed, multi-pin, heavy duty, metal, circular connector series provides an economical quick-connect bayonet locking system manufactured to withstand the challenges and complexities of harsh environment off-road applications.
In addition to the wide variety of backshell options available, we now offer a Cable Clamp Backshell in Size 18 and 24. Made of Aluminum Alloy and Nickel Plated with Stainless Steel screw and lock washers, as well as EPDM bushings.
Continue Reading
---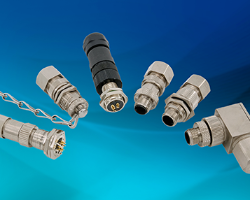 Amphenol Industrial's Max-M12 Expansion
March 17, 2021 | Amphenol Industrial Operations
Amphenol Industrial Operations has enhanced its Max-M12 product line to include an X coding, high-speed connector with support for 10Gb/s (1000M Ethernet with CAT6 cable) data transmission and S coding for a safer connection with First Mate Last Break. These new connectors are ideal for use in the rail and mass transit (RMT), heavy equipment vehicles, industrial automation and robotics markets.
Used on RMT door systems, on camera and communication systems, as well as on HVAC systems, the Max-M12 can easily transmit high speed data in environments where there is high vibration, moisture, salt, dirt and debris. It can also be used for off-road vehicles, ruggedized factory automation and robotics signal applications.
The Max-M12 family of connectors is based on IEC 61076-2-101 and SAE J2839. They are backward compatible and can be mated with any standard M12 connector with the same indexing. The Max-M12 features several different mounting options, including front or back lock/flange and wire termination styles, including solder, crimp and printed circuit tails.
The Max-M12 is rated to 4A and can endure extreme temperatures ranging from -55˚C to 125˚C. All Max-M12 connectors have an IP67 rating making them dust and waterproof. They are resistant to high pressure wash downs and water immersion. To ensure high performance in harsh environments, Amphenol has plating solutions designed to endure salt spray testing for up to 240 hours.
Amphenol's Max-M12 connector in-line mated pair can withstand 444 N of connector-to-cable retention forces and contact retention forces to 110 N. Housed in an HDM 12 EX impact resistant metal or plastic shell, the in-line mated pair is available as a 90˚ right angle or straight versions. When shielding is required the Max-M12 metal version is available in multiple shell styles for a variety of interconnect requirements. Both the 4-and 5-pin configurations are available with A, B and D polarity codes.
For more information about the Max-M12 visit Amphenol Industrial Operations.
Continue Reading
---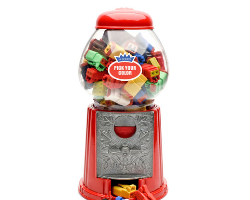 Amphenol Sine Systems-Pick Your Color!
March 11, 2021 | Amphenol Sine Systems
Our A Series™ Family of heavy duty, multi-pin, thermoplastic, rectangular connectors encompass a wide range of products, serving a variety of industries, and come in a variety of color modifications, as well as custom options, for your specific needs.
Colors are often used to help differentiate between keying options, but we also offer color modifications across a large number of our A Series™ product lines for your specific project needs.
Available colors are: Grey, Brown, Black, Blue, White, Yellow, Green, Red and Orange
Custom colors are also available. Contact your Sales Representative or Customer Service Representative for more information.
Continue Reading
---
Amphenol Sine Systems PRM (Panel Rack Mount) Power Connectors
March 11, 2021 | Amphenol Sine Systems
Amphenol Sine Systems' PRM Series™ (Panel Rack Mount) Connectors, available in 2 position, both in Plugs and Receptacles, are a quick-connect power connector solution for use in panel rack mount network aplications. Our quick-connect design enables denser installations, faster deployments and upgrades.
Market Applications: Telecommunications Infrastructure, Data Centers, Broadband
Features & Benefits
Field Installable w Standard Crimpers
Stackable / Reduced Footprint / In-Line Wire Design
Faster Installations / Replacements
Keyed to prevent mis-mating/reverse polarity
RADSOK®* and SureSocket™ Contacts
Panel receptacles can be customized to your specific application
Continue Reading
Showing 11 to 20 of 25 items